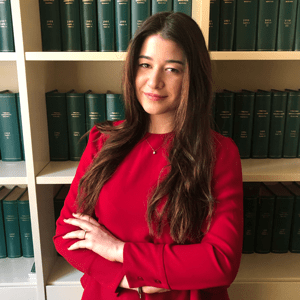 Maria Chiara Visconti graduated from Bocconi University of Milan with a degree in Law in 2016 with a dissertation concerning "Le sanzioni punitive irrogate dalle Autorità Amministrative Indipendenti e contrasto con la Convenzione Europea dei Diritti dell'Uomo: il caso CONSOB-FIAT".
In 2015 she took part in the university training and education Exchange Programme at the University of Sussex, in Brighton (UK), passed the Law of Succession and English Legal System exams.
In 2016 she started her professional career in Milan, as a trainee in Macchi Di Cellere – Gangemi Lawfirm and in 2017 she started to collaborate with Villata, Degli Esposti e Associati Lawfirm, working in the fields of Environmental Law, Energy, Urban Planning and Constructions.
Maria Chiara Visconti collaborates with Comandè Di Nola Restuccia Avvocati from february 2019, gaining expertise in the areas of Public Contracts Law, Urban Planning and Construction, Environmental Law and Energy.
She passed the bar exam in 2020.
She speaks Italian and English.